Hello! Spring season. The Spring season is one of my favourite seasons. The reason is the soothing weather, fall colours and the showers and flowers. Since we just witnessed St. Patrick's Day, which is the unofficial day for the start of the Spring Season. Happy and Cheerier weather is on its way, and with the change in your wardrobe, the best way to greet it is the Spring Nail Art Designs.
Spring Nails are very colourful and come in various shapes. Whether you are a fan of Subtle colours or like to try something more colourful like Rainbow nails, we have got you covered with our 20+ Nail Art Designs. You can find different types of designs like Abstract print, Unusual print, Flower print, St. Patrick's day print and whatnot.
So, check out the blog for the coolest spring nail art designs and try something different this spring season.
20 Classy Spring Nail Art Designs 2022
1. Spring Pastel Nail Art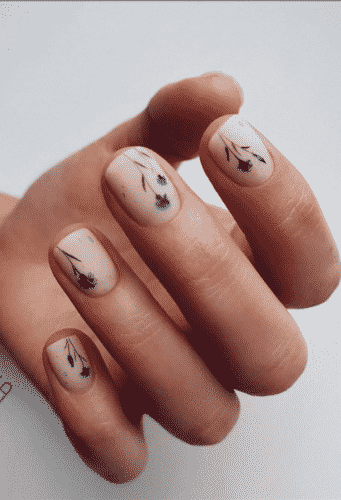 Well, spring is all about pastel colors and flowers and this nail art depicts the spring vibes perfectly. Those contrast flowers are going perfect with the background.
2. Simple Green Nail Art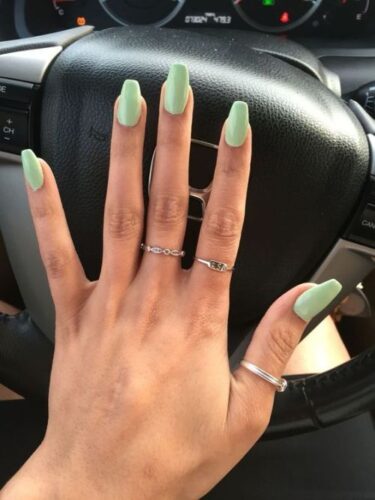 If you too like the minimalist design, then this nail color is for you. Just simple green pastel nail color and you are all set for spring season.
3. Rangoli Print Nail Art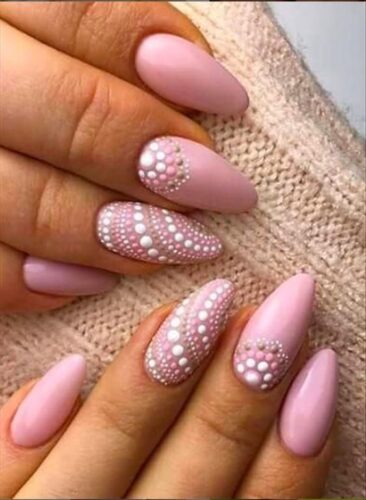 If you like making rangolis then how about having a rangoli design nail art. You can choose any colour you want and then with the help of toothpick you can design the nails.
4. Spring Flower Nail Art
If you are looking for a fresh flower nail art design, then I think the above flower nail art design is best for you. I love the colour combination and the different flower design, the added black spots has enhanced the beauty of the nail art.
5. Easter Bunny Nail Art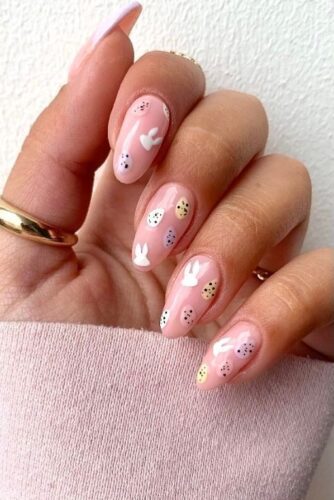 We all know that Easter day is celebrated in the Spring season and everywhere you can see is just the Easter eggs. How about trying that design in your nail art. You can try your own version of creativity by adding different colors and also placing easter eggs where you like. But if you want the look to be more spring nail art I would suggest the pastel colors.
6. Spring Flower Nail Art: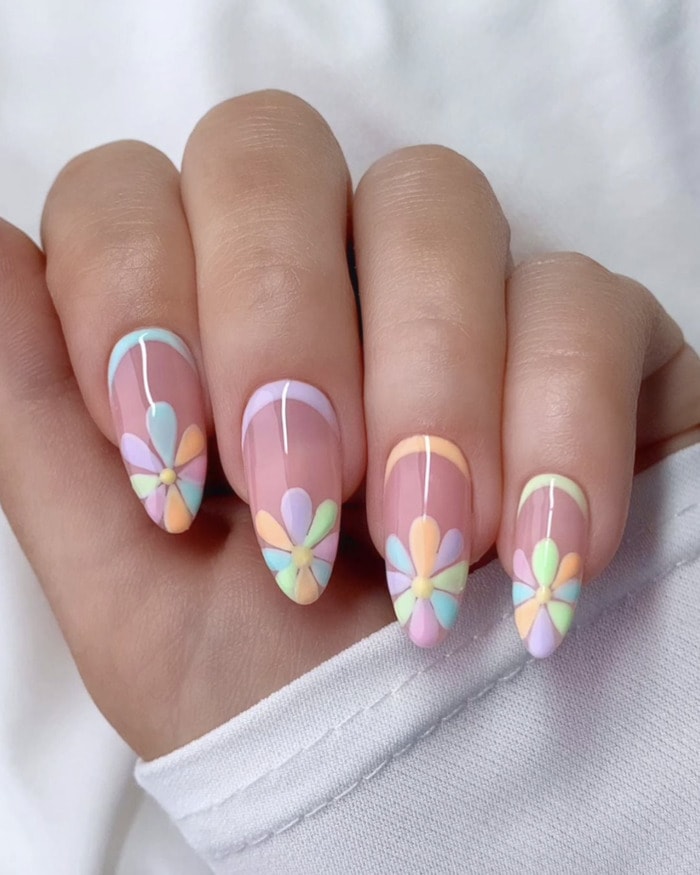 As we know that the Spring season is associated with new life and new blossoms, how amazing it would be to add Spring Flower to your nail art design. There are many different ways to add floral design to your nails.
7. Spring 3D Nail Art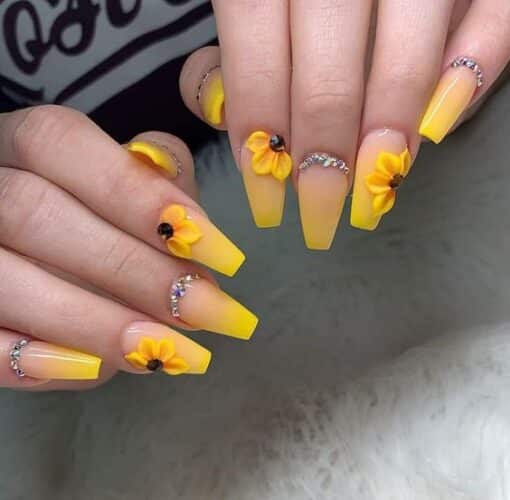 This nail art sure looks amazing but you have to be careful with it. Adding 3D touch to your nail art design will surely grab a lot of attention. You can mix and match with the colours and flowers.
8. Spring Color Nail Art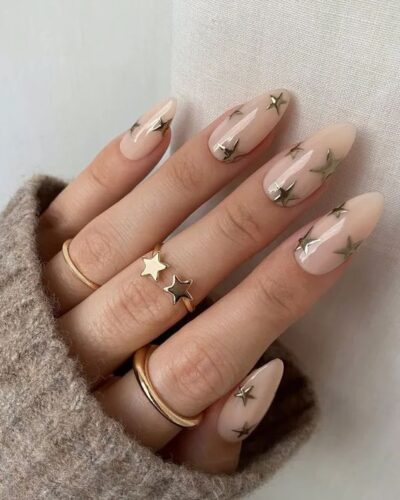 This nail art design is for all those who like to keep it minimum and simple. Just a touch of pastel colour with stars embedded in it.
9. Blue Color Nail Art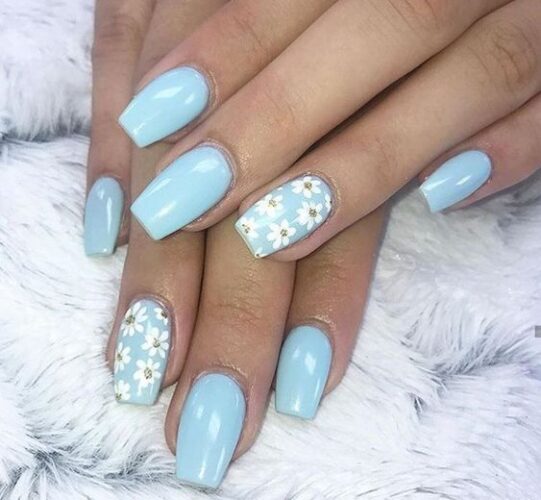 Blue colour never goes out of style. You can style the simple pastel blue colour with daffodil flowers. A perfect Spring nail art.
10. Tropical Vacation Nail art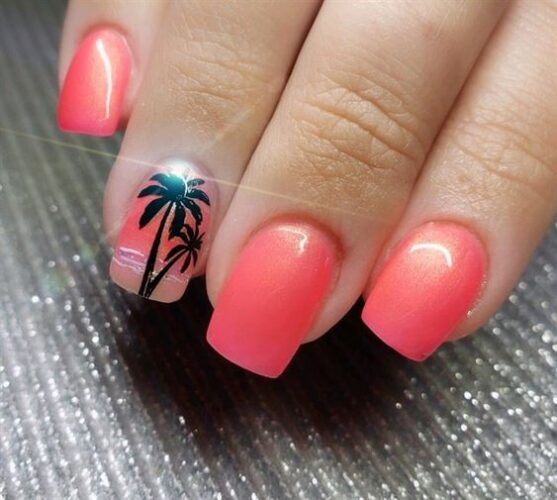 For all those beach lover vacations, this nail art design is for you. So, next time when you plan a vacation just go for this nail art and give yourself a perfect beach vibe.
11. Green and Yellow Nail Art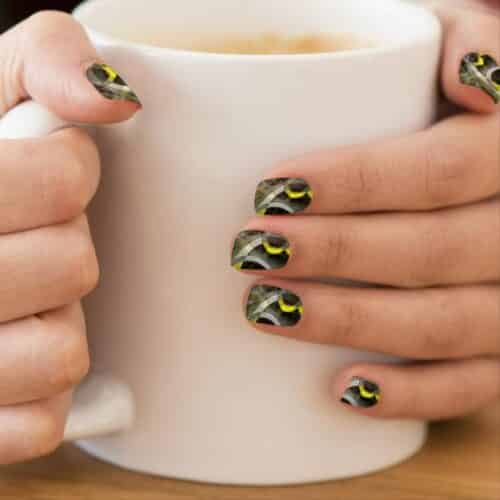 The combination of Green and Yellow colour gives you warmth and coolness. So, try this concept in your abstract green and yellow nail art. An excellent way to depict your feeling about the spring season.
12. Spring Acrylic Nail Art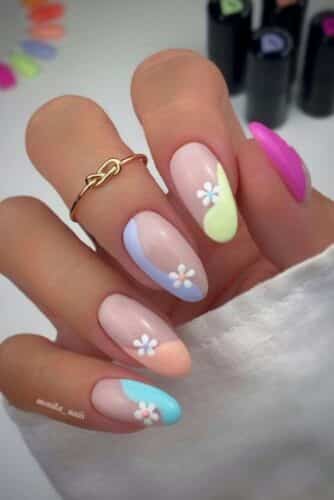 French manicure is a perfect way to celebrate any occasion, be it vacation or spring season. And giving the nail art design a Floral touch will give you the feminine look. Floral touch works on all types of length and you can use your creativity in designing the flowers.
13. Spring Colour Block Nails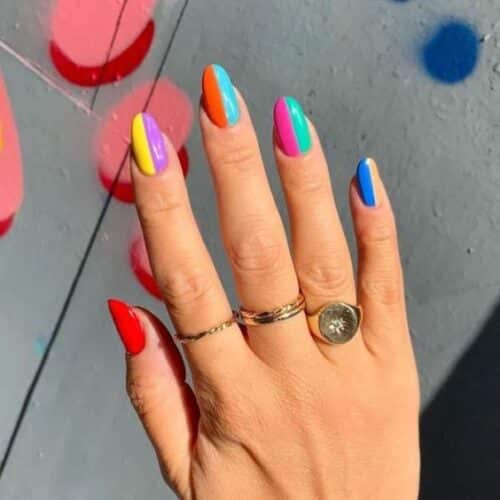 When in doubt always go for multicolor. This rainbow coloured nail art looks vibrant and gives you an energized feeling. The colour combination you can choose by yourself.
14. Spring Red French Manicure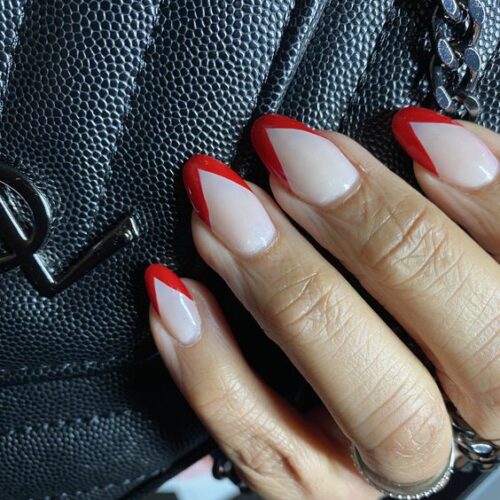 We have always seen white french manicures, let's try something different with a red french manicures. It looks both subtle and stylish.
15. Easy Spring Nail Art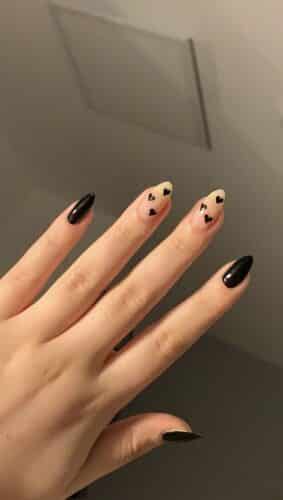 If you do not like to spend a lot of time doing nail art, then this one is perfect for you. It gives you a bold look and also looks attractive. You can choose any finger for a heart shape design.
16. Abstract Nail Art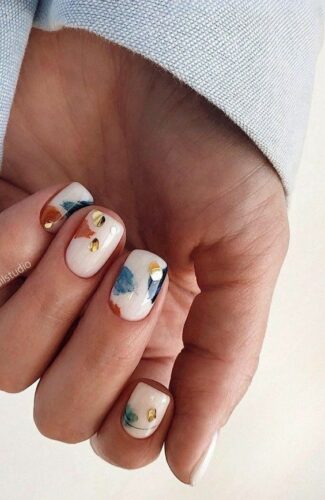 I am in love with this abstract design nail art. Abstract design enhances your creativity and helps you to express yourself more properly. You can mix and match with any colour combination and design too.
17. Spring Chicken Nail Design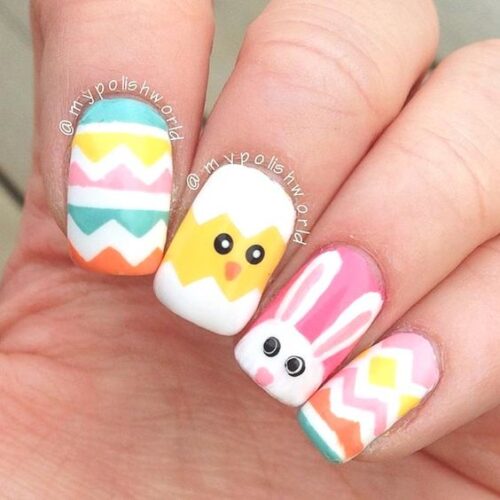 Spring is not only about Easter eggs, it is also about Chicken and living life to the fullest as we welcome new life and new blossoms. This colourful nail art is depicting the spring season in a perfect manner. If you want to focus more on Chick, then paint all your other nails with block paint.
18. Spring Dye Nail Art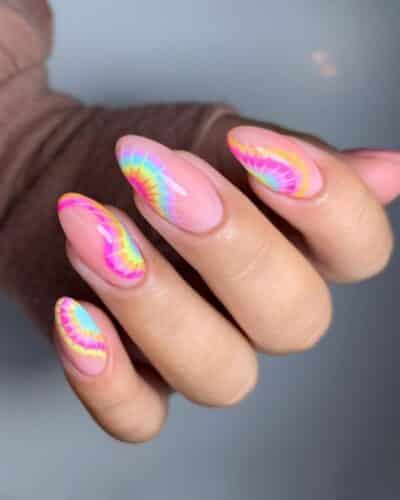 An interesting thing about the Print Dye Nail Art is you can style it with any design. Dye print was very popular during the '60s and now it has turned its way again. You can design it with any colour combination and create mesmerizing artwork.
19. Flamingo Nail Art Design
Flamingo prints are never out of style and everyone loves them. It gives you a perfect Spring Nail Art Design. The Flamingos look attractive and beautiful too.
20. Lavender Nail Art Design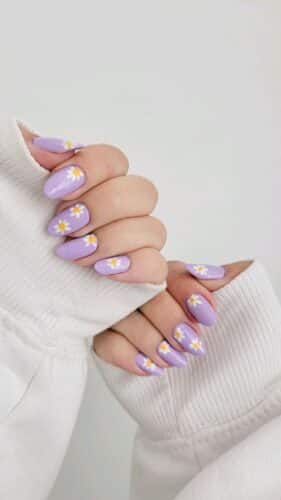 Spring season is all about different colours and giving them new look. Paint your nails with Pastel Lavender colour and add flowers to them. You can choose any flower design you want.
21. Minimalistic Nail Art Design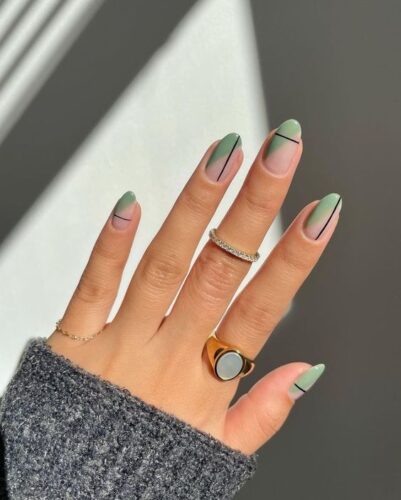 Everything about this nail art design is so classy and subtle, be it the green pastel colour or just a simple black line. A nail art design for all those who like to keep it simple and classy.
So, above are some great Spring nail art designs that you can choose during this fall season. Spring season is all about celebrating new life and new blossoms, just like you go for a whole new wardrobe in fall season, this time also add a new nail art design.
Which Spring Nail Art Design you like the best?