What are the best sides for chicken Alfredo? If that question led you here, you're in the right place. Also, if you're generally looking for what to serve with chicken alfredo, I've got you covered. This post compiles easy and mouth-watering side dishes for chicken alfredo, from breads to veggies and pasta. You'll also find appetizers and desserts to start and end your meals.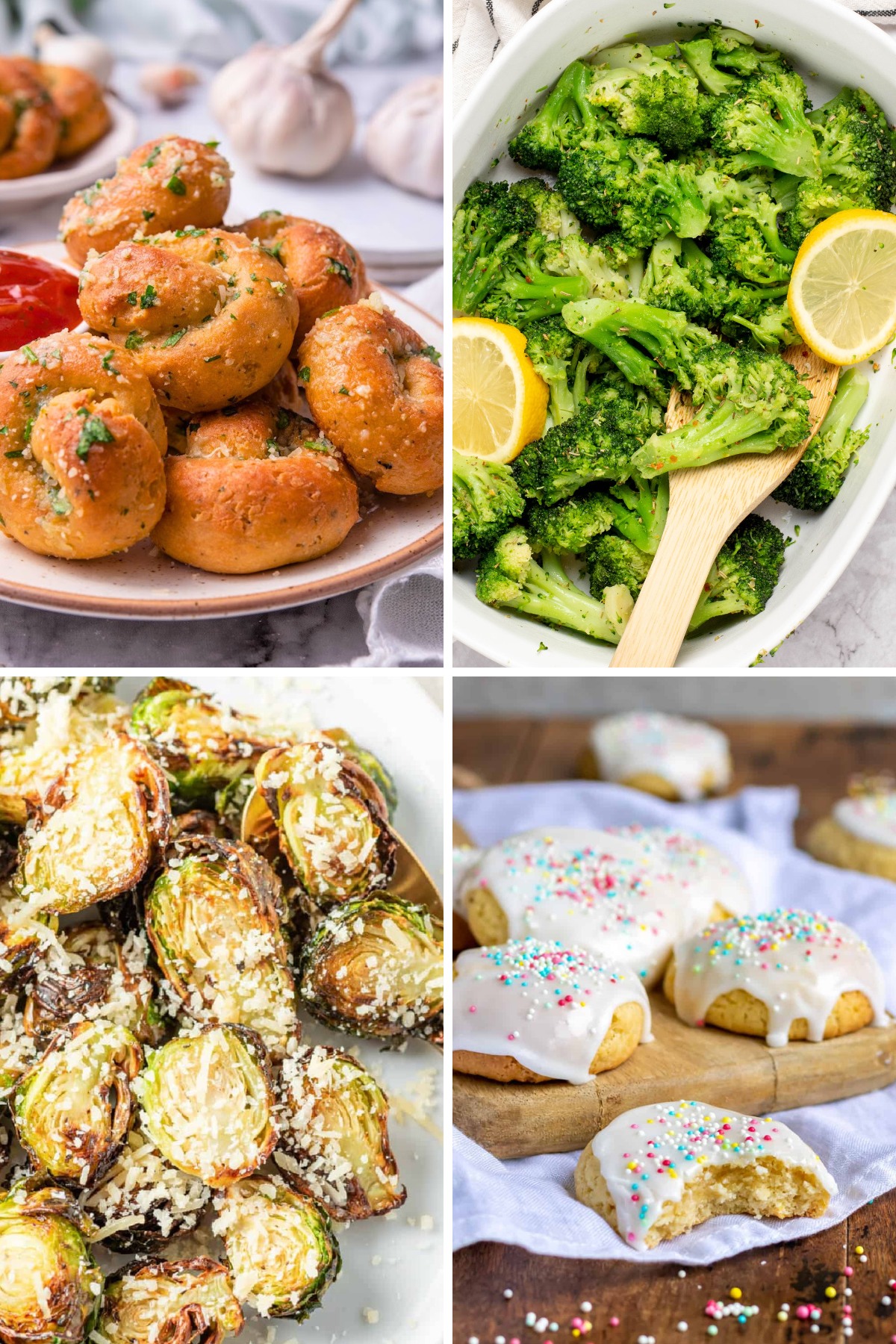 Why Share?
Chicken Alfredo is a classic Italian dish made with boneless chicken breast, creamy alfredo sauce (made with heavy cream, butter, garlic cloves, parmesan cheese, cream cheese, and spices like Italian seasoning and black pepper) and pasta.
Lighter options like my keto chicken alfredo casserole includes green vegetables like broccoli.
This creamy pasta dish seems like it should be a complete meal, but, it's not meant to be.
So, this collection provides tips to make chicken fettuccine alfredo a meal.
Here, you'll find appetizers, breads, vegetable side dishes, pasta options besides fettuccine noodles, and desserts.
More Italian Chicken Dinner Ideas:
If you enjoy this collection of the best sides for chicken alfredo, then you'll also enjoy these:
Breads
My favorite way to enjoy this classic dish is with bread. It's actually the most popular side dish for a pasta meal (and for good reason). Not only does crusty bread provide a crunchy texture, but it's also the perfect scoop for the cheesy sauce. Find out what goes with chicken alfredo from roasted garlic bread to spinach torta rustica using these easy bread recipes.
Keto Parmesan Garlic Bread Bites
Photo Credit:
drdavinahseats.com
Want to garlic bread, but not the carbs from bread? These copycat keto garlic bread bits are an excellent choice. These will be on your plate in 30 minutes. Plus, since they don't use actually flour, they are low carb.
Roasted Garlic Bread
Photo Credit:
jessicainthekitchen.com
Buttery, golden brown, and packed with bold garlic flavors, this bread is the perfect side for chicken alfredo.
Garlic and Rosemary Focaccia Bread
Photo Credit:
jessicainthekitchen.com
Try this bread for a complete Italian meal with chicken alfredo. It has a flavorful, crisp texture on the outside and soft texture on the inside.
Garlic Bread in Air Fryer
Photo Credit:
biteswithbri.com
Make garlic bread the easy way, by cooking it in your air fryer. This easy recipe comes together in as little as 15 minutes!
Semolina Bread with Sesame Seeds
Photo Credit:
www.mangiabedda.com
This perfectly-textured bread is a tweaked version of the original Sicily bread. Enjoy it with your favorite creamy chicken alfredo recipe.
Spinach Torta Rustica
Photo Credit:
www.thatskinnychickcanbake.com
Spinach torta rustica—a holiday-worthy Italian breading oozing fresh and tarty flavors. The spinach filling is a perfect way to sneak in the veggies.
Vegetable Side Dishes
If you want to know what vegetables go with chicken alfredo, the list below is a great place to sample healthy veggie sides for chicken alfredo pasta. These delicious side dishes are the best way to turn this main dish into a meal with lighter options.
Easy Air Fryer Green Beans
Photo Credit:
drdavinahseats.com
Make crispy and tasty green beans in the air fryer in less than 10 minutes. You need 4 ingredients for this recipe.
Sauteed Yellow Squash
Photo Credit:
blackpeoplesrecipes.com
Here's something for the hot season. Yellow squash is easy to make and delicious, yet it takes only 30 minutes from start to stop.
Ninja Foodi Air Fryer Asparagus
Photo Credit:
drdavinahseats.com
Air fryer asparagus is crispy and tasty and will be ready in under 10 minutes. This healthy side requires just 4 simple ingredients.
Air Fryer Frozen Broccoli
Photo Credit:
drdavinahseats.com
Air fry your broccoli from frozen and achieve tasty, crunchy results in 10 minutes. You'll use 4 ingredients for this recipe.
Oven Roasted Vegetables Medley
Photo Credit:
twohealthykitchens.com
These are interesting to make and fun to eat—colorful, full of fresh flavors and various textures, even the pickiest eater cannot resist this dish.
Air Fryer Roasted Broccoli
Photo Credit:
drdavinahseats.com
The air fryer roasted version is your treat if you can't stand steamed broccoli. It comes together in about 10 minutes; the results are crispy and tasty.
Fresh Salads
Wondering what to serve with chicken alfredo? These salads are worth your time and effort. They are easy to make, delicious, and light enough to be served as meal starters.
Easy Caprese Salad
Photo Credit:
noshingwiththenolands.com
Nothing refreshes the soul like a vibrant fresh salad in summer. This one is simple but worth every bite.
Burrata Caprese (Burrata Tomato Salad)
Photo Credit:
www.mapleandmango.com
Made with 7 ingredients, burrata caprese is the kind that tickles your tastebuds with a perfect blend of diverse flavors. It's tarty, sour, and creamy.
Italian Chopped Salad
Photo Credit:
fantabulosity.com
Meat and vegetables make the perfect combo for a super tasty salad. This Italian salad uses 7 ingredients and is ready in 30 minutes.
Easy Spinach Salad With Pears
Photo Credit:
scarlatifamilykitchen.com
Here's a healthy, simple, and delicious salad to serve with chicken alfredo. It balances sweet and savory perfectly, and everything comes together in under 15 minutes.
Kale Crunch Salad
Photo Credit:
biteswithbri.com
Kale crunch salad is packed with nutrients and bold flavors to bring that extra punch to your meals. It requires simple ingredients and will be done in 5 minutes.
Insalata Tricolore: Italian Tricolore Salad
Photo Credit:
www.panningtheglobe.com
Make this timeless Italian salad using a handful of fresh ingredients. You'll need 15 minutes to put everything together.
Classic Caesar Salad
Photo Credit:
drivemehungry.com
If you love Caesar salad, it's possible to make the restaurant-style dish at home with just a few ingredients in 15 minutes.
Shaved Asparagus Salad
Photo Credit:
boulderlocavore.com
Here's your Spring salad treat; this shaved asparagus dish is a perfect blend of creamy, sweet, and sour.
Pasta Sides
In your search for good sides for chicken alfredo, don't miss out on these pasta options. Below are recipe tutorials for homemade pasta that goes with chicken alfredo. These are a good idea if you're looking for unique or homemade options besides boxed pasta from the grocery store.
Ninja Foodi Air Fryer Spaghetti Squash
Photo Credit:
drdavinahseats.com
Spaghetti squash is healthy, easy to make, and takes about 20 minutes to roast in the air fryer. You'll need 5 ingredients for this dish.
Homemade Pasta
Photo Credit:
www.loveandlemons.com
This homemade pasta is one of the best side dishes for chicken alfredo. It uses only 4 ingredients, and the results are phenomenal.
Keto Pasta Noodles
Photo Credit:
www.wholesomeyum.com
If you're looking for something low-carb but still tasty, these keto pasta noodles will do. They're easy to make with only 3 ingredients.
Dessert For Chicken Alfredo
From espresso ice cream to lemon drop cookies, sample a handful of delightful desserts to conclude your well-deserving chicken alfredo meal.
Affogato Recipe (Espresso Ice Cream)
Photo Credit:
theforkedspoon.com
This Italian dessert is special in combining espresso coffee with ice cream to deliver pure awesomeness.
Classic Panna Cotta
Photo Credit:
www.recipesfromeurope.com
Don't mind the complicated name; this winning dessert requires only 6 ingredients and comes together in just 10 minutes.
Dairy-Free Coconut Panna Cotta
Photo Credit:
wholenewmom.com
This recipe allows you to enjoy the original panna cotta flavors even on a dairy-free diet. You'll need a handful of ingredients to make it.
Italian Pizzelle Cookies
Photo Credit:
thecleaneatingcouple.com
Everyone will love these waffle-like Italian treats. They are made with 6 only ingredients, and the results are super delicious.
Italian Lemon Drop Cookies (Anginetti)
Photo Credit:
veggiedesserts.com
Sweet and zesty Italian lemon drop cookies are the ultimate sweet treat. Conclude your chicken alfredo meal in style with one of these.
FAQs
What can I eat with pasta besides salad?
There are endless options of side dishes to enjoy with pasta. Some of the options in this collection include vegetable side dishes like grilled, air fried, or roasted vegetables, bread, and dips.
Is chicken Alfredo good for you to eat?
This depends on your overall goals. The sauce includes things like butter, cream, and cheese. So, one way to enjoy it with fewer calories and carbs is to make it a bake with vegetables instead of pasta. You can also use things like my spaghetti squash using this spaghetti squash with chicken alfredo recipe. One recipe is this keto chicken alfredo.
Can you eat chicken Alfredo and still lose weight?
As mentioned above, this depends on your overall goals and eating plan. For example, someone on a keto diet, might omit the pasta. Another person might make it fit into their eating plan by finding healthier alternatives to the butter and cream.
Is Alfredo or tomato sauce healthier?
Alfredo sauce is made with heavy cream, cheeses like cream cheese and parmesan cheese, and butter. So, tomato sauce has fewer calories and fat than Alfredo sauce. With that, many find that tomato sauce is generally healthier than Alfredo sauce.